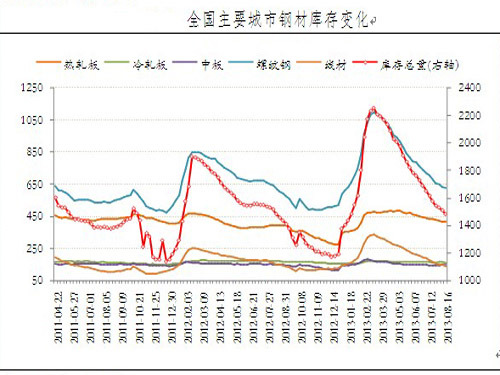 Iron ore stockpiles in major ports in the country rose slightly last week. As of August 16, total iron ore stocks in major ports in China reached 71.48 million tons, a month-on-year increase of 450,000 tons, an increase of 0.63%; of which, Australian mines accounted for 46.73%, a month-on-month decline of 0.59%; India and India accounted for 1.96. %, month-on-month decrease of 0.08%; Pakistan mine accounted for 16.55%, an increase of 1.30%.

Last week, the Platts index rose and then fell. As of August 16, the Platts index was 138 US dollars / ton, up 4.5 US dollars / ton from the previous week. Last week, the import mines suffered a series of twists and turns. After the beginning of the week of Singapore's Eid holiday, the Platts Index rose sharply. The spot price of ports was also significantly higher, and due to the overall tighter resources, coupled with the generally optimistic outlook for the market, many businesses chose to close their inventory; After the middle of the week, with the buyer's inadequacy in accepting excessively high ore prices, the willingness to purchase declined, and the port market's transaction climate became apparently lighter. The port operators gradually became more rational and declined in price confusion. On the whole, although the current port inventory has picked up, the current situation with few market resources remains unchanged, and port merchants are not willing to ship at low prices. Even if the price declines, some businesses choose to reluctantly sell them, and the market's mentality is relatively stable. The price of imported ore this week is expected to be weak and strong, and short-term ore prices are limited.

Last week, coke port stocks fell slightly. As of August 16th, the inventory of coke in Tianjin Port was 2.320 million tons, a decrease of 1.28% from the previous period; the inventory of coke in Lianyungang was 21.0 million tons, a decrease of 12.50% from the previous period; and the inventory of Rizhao Port was 177,000 tons, an increase of 4.12% from the previous period. Coke prices rose strongly last week and only gradually stabilized until Friday. Recently, the continuous strengthening of steel prices has made steel mills pay more attention to the increase in prices of coking enterprises, and the number of steel companies undergoing upward adjustment has been increasing. The market's bullish confidence is sufficient, and due to the more active coke procurement by steel companies, the coke rate has also started to increase compared with the previous period. Pick up. At present, the operation of the coke enterprises is in good condition and the pressure on the stocks is not great. However, due to the fact that the inventories of the coke ports are still at a high level, and the coke price is insufficient for the follow-up growth of the current round of gains, the price of coke may be mainly stabilized this week.

Last week, the total domestic steel social inventories fell slightly. As of August 16, total steel inventories fell by 1.4% to 14.838 million tons, of which, 6.235 million tons of thread stocks fell by 1.5%; and 1.965 million tons of wire rods decreased by 6.5%; 4.71 million tons decreased 0.1%; cold rolled 1.604 million tons decreased 1.8%; and medium plate 1.462 million tons increased 0.8%.

Last week, the price of most major domestic steel mills in the first phase all increased. The prices of small-scale plants have followed up. Due to the strong market atmosphere, some downstream stockpiles are ahead of schedule, and the domestic steel stock market further declines. However, on the other hand, terminal demand has not improved recently. Even if prices increase, it will not be able to stimulate the terminal to follow-up on a large scale. Market transactions are always sluggish, which also causes the current rise to stagnate after mid-week and steel prices even at weekends. There is a callback. Taken together, the increase in steel prices after August has become more apparent. Businesses are more accepting of rational callbacks in the recent days, and market sentiment is relatively calm. Insufficient market inventories also give businesses confidence that short-term slumps are less likely to occur. The price is mainly concentrated in a narrow range, and the total social steel inventory has rebounded slightly.
INCOLOY
®
The registered trademark name, Incoloy, is applied as the prefix name to several highly corrosion resistant high temperature strength metal alloys produced by Special Metals Corporation. These Incoloy alloys or superalloys are nickel-based alloys that exhibit traits that include good corrosion resistance in aqueous environments, excellent strength and oxidation resistance in high-temperature settings, good creep-rupture strength, and ease of fabrication.
Alloys of identical chemical and mechanical properties are available from other manufacturers and offer excellent alternatives to the various Incoloy brand alloys.
The corrosion-resistant superalloys are widely used in extreme environments where tremendous heat and corrosion resistance is paramount to the integrity of the end product. Chemical and petrochemical processing, power plants, and oil and gas industries widely use these superalloys.
Incoloy Availability
Yuhong Group supplies Incoloy 800, 800H/HT and 825 in the form of plate, sheet, strip, bar, wire, pipe, tubing, pipe fittings, and flanges.
What are the Characteristics of Incoloy ?
Good corrosion resistance in aqueous environments
Excellent strength resistance in high-temperature settings
Excellent oxidation and carburization resistance in high-temperature settings
Good creep-rupture strength
Ease of fabrication
In what Applications are Incoloy alloys used ?
Process piping, heat exchangers, carburizing equipment, heating-element sheathing, nuclear steam-generator tubing
Chemical and petrochemical processing, power plants, industrial furnaces, heat-treating equipment
Pollution-control equipment, oil and gas well piping, nuclear fuel reprocessing, acid production, pickling equipment
Superalloys, also known as high performance alloys, have become the steel of choice for corrosion resistance and versatility.
*Incoloy® is a registered trademark of Special Metals Corporation group of Companies.
Incoloy Flange,Incoloy 825 Flange,Incoloy Forged Flanges
YUHONG GROUP CO.,LIMITED , http://www.jessro-pipefittings.com