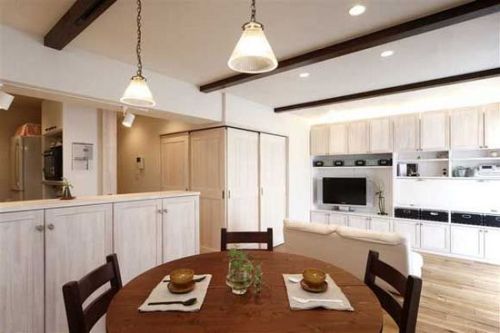 Recently, the Department of Circulation Industry Development of the Ministry of Commerce and the China Building Materials Circulation Association jointly issued the National Building Materials Home Furnishing Index (BHI) in July. The data shows that in July the National Building Materials Index (BHI) was 112.05, up 2.94 points month-on-month and down 1.31 points year-on-year. Sales volume of building materials home stores above designated size in China reached 111.9 billion yuan in July, an increase of 8.91% month-on-month, and a 0.04% year-on-year decrease. From January to July, the accumulated sales amounted to 631.5 billion yuan, a year-on-year decrease of 5.16%.
Qin Zhanxue, executive vice president of China Building Materials Circulation Association, interpreted the current BHI data from an expert point of view: July should have been the traditional off-season for the sales of building materials and home furnishing markets, but this month, BHI surpassed last month, and its popularity index, purchasing power index, The sales ability index, the employment rate index and the occupancy rate index all exceeded June. This was mainly due to the continuous rise in residential prices that continued to stimulate the need for early release of real estate, resulting in a small upsurge of decoration, coupled with the recent central government's proposal to maintain real estate. The healthy development of the industry, housing prices are more optimistic about the market outlook is expected, so just need to re-strengthen the expected increase in real estate prices, may bring sprint-style release.
According to data from the National Bureau of Statistics, the index of real estate development in July was 97.39, up 0.1 point from the previous month. From January to July, the sales volume of commercial housing was 61.33 million square meters, which was a year-on-year increase of 25.8%; the sales of commercial housing were 3.9549 trillion yuan, an increase of 37.8%; at the end of July, the area for sale of commercial housing was 442.74 million square meters, an increase of 5.43 million square meters from the end of June. The above figures also support a slight increase in the renovation market. However, it should be noted that the confidence index of BHI's managers fell by 15.56 points compared with the previous month this month. It can be seen that the awareness of corporate crisis in the building materials home market has gradually increased and local governments have begun to fight sales promotion for the "peak season" in September and October. Enterprises should make good use of this opportunity, work hard from transformation and upgrading, and seize the opportunity brought by the new type of urbanization.
BHI is the abbreviation of National Building Materials Home Furnishing Index. It is a boom index index issued by the Department of Circulation Industry Development of the Ministry of Commerce and the China Building Materials Circulation Association. It has been compiled from data collected from 40,000 building home retailers (shops) at designated collection points across the country. BHI reflects the degree of prosperity and market trend of building materials for home decoration and decoration materials. It also compares with the national real estate development climate index and reflects the rigidity of real estate demand.
MDCP IS Pulverized white powder or grey powder or granule,Tasteless,Odorless.Packaging:25kgnet of Bag and 1000kg supersack (PP woven),Storage and Transport:It should be stored in a cool,dry,and ventilated places.It should be kept away from rain and sunshine during transport.It shelf life is eternity.MDCP is mainly used as additive in feed to meet the little livestock's requirement on absorbing Phosphate and Calcium.
Mono Dicalcium Phosphate (MDCP)
Mono Dicalcium Phosphate,Mdcp Powder,Mdcp White Powder,Mdcp Grey Powder
MIDI FEED BIOTECH LIMITED , http://www.chinabromine.com